Fourth of July is right around the corner. Gather your friends and family for a spectacular night of food, fun, music and fireworks. Here are some of the locations where the entire family can enjoy 4th of July activities :

Get an Early Start 2014
World Golf Village celebrates Independence Day with its annual Community Fireworks. This event takes place already on July 3, 2014. There is an All American BBQ from 5:30 – 6:45 p.m. followed by priority seating for the IMAX showing of Transformers 4 at 7:15 p.m.  Fireworks begin after the movie.  The World Golf Village offers one of the largest displays in Northeast Florida.   Tickets are $35 for adults and $30 for children.
One World Golf Pl., St. Augustine | 904-940-4123 | www.WorldGolfHallofFame.org

Downtown Jacksonville

This year there are three different locations where you can celebrate independence day.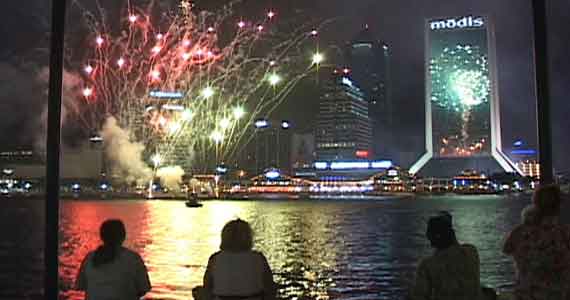 The Shipyards on Bay Street
This is a new area for festivals and events in Jacksonville, right next to Maxwell House. This area is going to focus on fun for the family with interactive activities, water activities, Woody's BBQ and other food vendors are here and there is also live entertainment at the Shipyards. Bring your family and participate in Minute to Win It like activities.
Jacksonville Landing
The Jacksonville Landing offers live music from the stage by Boogie Freaks from 8 pm – 1 am. Drink specials are available, and there is a beautiful view of the river and the fireworks. Also, on Friday, July 4th from 10 am – 2 pm, there is a Friday Market at the Landing.
The Jacksonville Landing: (904) 353-1188 or www.jacksonvillelanding.com
Friendship Fountain Park on the Southbank
Bring the family and experience some of the coolest hands-on activities presented by MOSH.
Fourth of July Fireworks Downtown
The fireworks is scheduled to begin around 9:30 p.m. Fireworks can be viewed from the Northbank and Southbank of the St. Johns River.  Fireworks in downtown Jacksonville will be launched from river barges behind Metropolitan Park, the Hyatt Regency Jacksonville Riverfront and The Jacksonville Landing along with strobes on the Main Street Bridge and the Acosta Bridge.
$4 Fourth of July at MOSH
The Museum of Science and History in downtown Jacksonville is celebrating the Fourth of July a little bit differently. You get a ticket for only $4 on the Fourth of July, so this might be a nice combo for your Independence Day celebration. MOSH is open from 10 am – 5 pm. Call 904.396.MOSH for more information.
Fourth of July Fireworks at Riverside Arts Market
Now you can head out to RAM to watch fireworks on Fourth of July from 6 pm – 10 pm.  Riverside Markets is offering live music (Flagship Romance and the 77ds are performing), local beer,  RAM food vendors and more. The event will be one of RAM's famous 'Beer Days,' including locally brewed Intuition, Bold City, Aardwolf, and Veterans United on tap. Kid-friendly activities include a barrel train and bounce houses. Live music on the River Stage will include Jacksonville favorites Flagship Romance from 6-7:30pm and The 77ds from 8-9:45pm. The City's Downtown fireworks display is scheduled to begin at 9:45pm. RAM's Bike Valet, hosted by Bike Jax, will be available for the event. For more information, visit riversideartsmarket.com

Fourth of July Fireworks at Jax Beach
This year there will be fireworks at the beach again, so come to Sea Walk Pavilion for Fourth of July. The fireworks start at 9 p.m. For more information, call 904-270-9301 or email jaxbeachfestivals@gmail.com.

Throwback Baseball Game on the 4th
Experience a 1900 era baseball game during this old-fashioned, family friendly celebration of Independence Day. Residents of the Springfield historic district dress in vintage turn-of-the-century baseball uniforms and equipment and battle it out on the diamond, East vs West for bragging rights. Picnic blankets, bicycles, dogs, and cold beverages encouraged. There's also a kid's parade and concessions. Hang out after the event to watch the fireworks. This is a free event in Kluthos Park in Springfield starting at 5 pm.
For more information visit the website.

Fourth of July – Orange Park
THE 4TH OF JULY CELEBRATION at Moosehaven is a big celebration with fireworks, concert and lots of fun. The celebration takes place Friday, July 4th starting at 2 pm. There is a $5 admission, but kids under 12 and active-duty military families are free . Brothers Osborne is performing live in concert at 7pm. Kids Zone, food and concessions and much more.
Location: Moosehaven, 1701 Park Avenue, Orange Park
For more information visit www.moosehaven.org

Fourth of July concert and Fireworks
1 South Castillo Dr. ,St Augustine 32084
Come out to St. Augustine and share 4th of July with your family by the fort. The All Star Orchestra, returns to the Plaza de la Constitución for a two-hour show filled with big band and swing music along with all the traditional patriotic favorites. The fireworks burst into the air at 9:30 p.m. above the Castillo de San Marcos. The 20-minute display is tchoreographed to a soundtrack of great popular and patriotic music delivered over an extensive sound system transforming the entire Bayfront.The best view along the bayfront between the Castillo and the Bridge of Lions. Expect lots of traffic and a huge crowd. For more information, call 904-825-1004.

Fourth of July – Amelia Island
Fernandina Beach, Amelia Island
Come out on 4th of July for the Stars and Stripes Freedom Festival in Fernandina Beach. The festival takes place from 10 am – 2 pm at the main beach. Music, Arts & Crafts, Food Trucks, Water Slide, Bounce Houses, Face Painting, Cool Treats and More… (Call 904 310-3361 for more information about that. )  There is live music downtown and in front of the visitor center on Main. The fireworks will start around  9:30 p.m. on the waterfront. Check out the website for more details.

St. Mary's 4th of July Celebration
St. Mary's, Georgia
Come celebrate 4th of July with the family in St. Marys. There will be plenty of activities all day for the entire family to enjoy. There will be a race at 7 a.m. and a parade at 10 a.m. There will also be arts and crafts for the kids to enjoy as well as free food. Don't forget about the fireworks over the water. This is a BIG day in St. Marys. Everybody comes downtown for the festival and the fireworks. It's the only day of the year when traffic – and parking – in historic downtown St Marys becomes a challenge. Best thing to do, plan to come early and stay late.  Check out the website for more details.

Coke Zero 400 Weekend
Daytona Beach, Florida
This is the weekend when "American Pride meets Daytona Power".  Why not combine roaring car engines and a cookout? This is an event the racing fans don't want to miss, and you can become apart of an event that has had incredible moments in racing history. Make sure to enjoy those fireworks after the racing is over. For more information, check out the website.
+++++++++++++++++++++++++++++++
If you liked this post, make sure to sign up for the I Know Jax newsletter. That way we keep you up to date with what's happening in our area, and we'll also let you know about upcoming I Know Jax events. Click here to sign up.
Other stories to read on www.iknowjax.com: